Virtues of Scouting: A Night with Teddy Roosevelt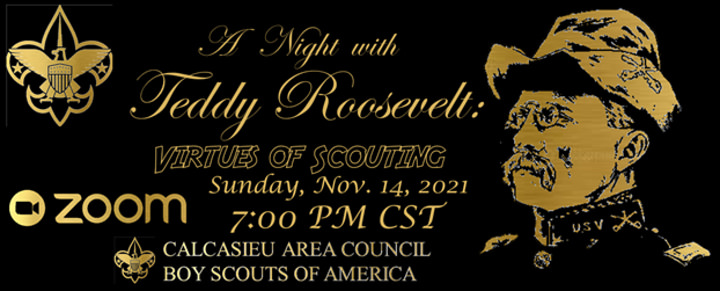 November 14, 2021; 7:00-8:00 PM; Online at ZOOM; This is a FREE Event for our Scouts and Scout Families!
The Calcasieu Area Council, Boy Scouts of America is proud to present on Sunday, November 14, 2021 with "A Night with Teddy Roosevelt: Virtues of Scouting!"
LOG IN INFO:
Meeting ID: 479 035 1958
Passcode: Scouts
Join Zoom Meeting Link:
Historical reenactor Adam Lindquist will be reprising the role of our 26th U.S. President, Medal of Honor recipient, founder of our National Parks, American statesman, conservationist, cowboy, naturalist, historian, and writer Theodore Roosevelt. Learn how Roosevelt was instrumental in the founding of the Boy Scouts of America!
We encourage Scouts to be thinking of questions so they can submit them in the chat at the end of the program!
This is a FREE Event for all our Scouting Families! "BULLY!"
For all our individuals/couples/families not registered in Scouting, we recommend a $5 Donation to the Calcasieu Area Council, in order to help support local area scouting in Southwest Louisiana. Please click here to make your $5 donation.