Merit Badge Saturday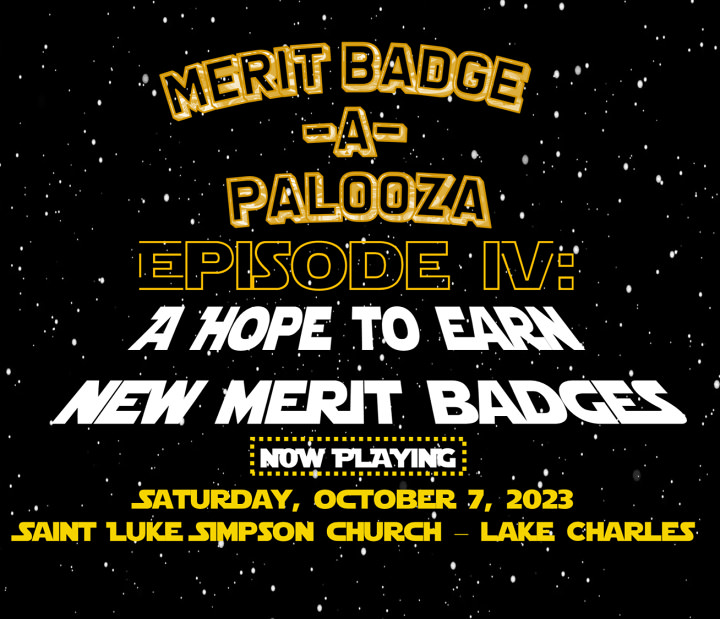 Join us for Saturday, October 7th at St. Luke Simpson in Lake Charles! Registration beings at 8 a.m. Opening Flags at 8:50. First session 9:00 - 12:00 Second Session 1:00 - 4:00. All day classes are 9-4 with a 1 hour lunch break.
Please scroll down for the merit badge selection for October 7th.
Get Ready for "Merit Badge-A-Palooza Episode IV: A Hope to Earn New Merit Badges!"
Only $20 for the day includes up to two classes! The fee is the same if you choose to only do one half day class as if participate in two half day classes. Lunch is included in this event and all participants will receive a physical blue card.
Remember that anything worth doing is worth doing well, so please "do your best" work for these classes or you will be asked to try again. All Scouts on the call must participate in order to get credit for the work.
Not all Merit Badges will be completed and partials will be awarded. Continual work is encouraged if you are unable to complete the work during the class time. Pre-work of good quality that meets the requirements of the Merit Badge will be accepted.
Below are the classes being offered on October 7th and the anticipated completion information. A few of the classes have work that will need to be completed before the class begins, so please check carefully. (please scroll down to see classes being offered October 7th)
For questions or concerns, please contact Laura Lovell at Laura.Lovell@Scouting.org or call/text 530-770-1152.
Classes being offered October 7th.
| | |
| --- | --- |
| Merit Badge-a-Palooza | Saturday, October 7th |
| | |
| Full Day Classes | Work not able to be completed: |
| Architecture | Pre-req #1a |
| Automotive Maintenance | Will complete |
| American Labor | will complete - bring smart phone or computer |
| Composit Materials | will complete |
| Citizenship in the Nation | Pre. Req - 2, 3 |
| Energy | Pre-req. #4 |
| Environmental Science | Will complete all except observations |
| First Aid | Will complete - bring personal first aid kit |
| Electricity | Pre req #2 & #8 |
| Game Design | Will complete |
| Indian Lore ($15 additional fee) | Will complete |
| Graphic Arts | Will complete |
| Sports/Athletics | Must show improvement in physical activities and play an acceptable sport. |
| Truck Transportation | Pre-req. #4 |
| Wood Carving | $10 fee for supplies in addition to class fee |
| | |
| | |
| Half Day Classes - a.m. | Work not able to be completed: |
| Citizenship in Society (limited to 8) | Pre req - #8 - must participate in conversation for credit |
| Family Life | Pre Rec: #2 Will not complete 3, 4, 5, 6b |
| Geology | Will complete |
| Safety | Pre req - #2 & 4 |
| | |
| Half Day Classes - p.m. | Work not able to be completed: |
| Oceanography | Will Complete |
| Citizenship in Society (limited to 8) | Pre req - #8 - must participate in conversation for credit |
| Citizenship in the World | Will complete |
| Backpacking/Hiking | Must complete hikes to complete |