Council Kite Derby - April 2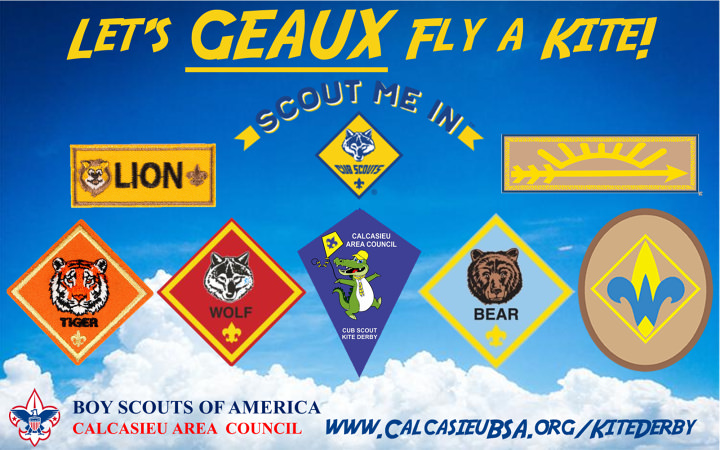 Let's go fly a kite! Join the Calcasieu Area Council in our 4th annual council Kite Derby! The Kite Derby will take place at the I-10 Beach on Sunday, April 2, 2022 from 2pm-4pm. Scouts will learn the history of kites, kite safety, and the ties it has to history of Scouting! Around 3pm we are going to have our launching of our kites!
Registration is $15! Scouts that participate will receive:
-Custom Kite Derby Patch!
-All Kite Making Supplies and String!
-Science, Safety, and History of Kite Making Packet!
-Lemonade and Cookies!
Scouts to can make and bring their own kites premade to the derby, but we will have some kite making and repair supplies on site just in case!
We will be having a couple of Kite Design contests too! The categories will include:
- Best Scout Design
- Most Unique Kite Design
So come out and bring the whole family for a nice, fun, relaxing afternoon at the Beach!
This event will fill the requirements of:
Wolf Scouts -AIR OF THE WOLF: 2. (D)