101 Hours Day of Giving Ambassador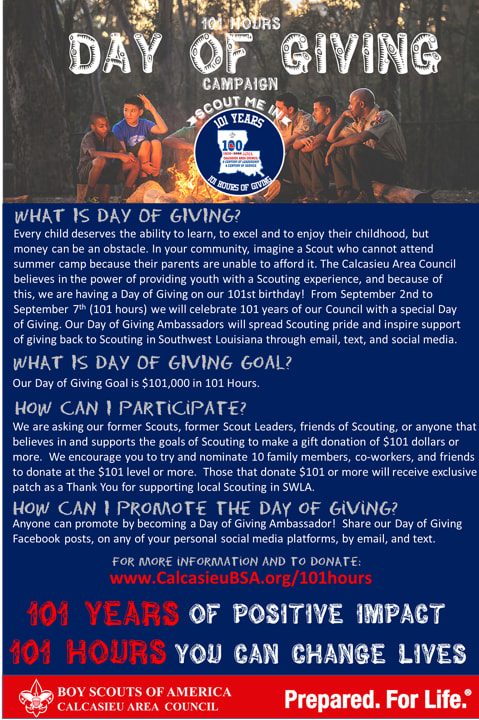 We are excited to kick off our 101st year of Scouting in the Calcasieu Area Council with our 101 Hours Day of Giving program. The structure of this program works best when we have the most exposure and for that, we are looking for Ambassadors for this great event.
What does an Ambassador do?
It is a very simple process. We are asking our Ambassadors to share our social media posts on their own pages and to make sure the units you are in know about the program and are ready to participate. We are asking that each Ambassador reach out to 10 people directly to see if they will be willing to donate. They can be former Scouts, Scouting supporters, family, friends, co-workers, etc. We know you know people who understand the value of a strong Scouting program and who have seen the benefits directly through your family and other Scouting families.
Can't we just share your posts from social media?
We hope you will! But to truly be an Ambassador for our program, you will have to be willing to ask 10 people to participate in a one on one manner. Things that would meet this requirement include email, text, phone call, and the most effective, a face to face ask. You have felt the impact of Scouting and the SWLA youth need us now more than ever! They need fun, adventure, stability, faith, courage, leadership skills and so much more that the Scouting program can help provide.
Is there anything special I will get for being an Ambassador?
We know you aren't doing this for a reward because we have seen the amazing servant leadership provided by our volunteers. However, we thought a super cool opportunity would be to enter everyone who becomes an Ambassador into a drawing at the end of our 101 Hours Day of Giving to have a scholarship awarded in YOUR NAME to one of our Scouts that needs assistance with Day Camp or Summer Camp. There is always one more youth that we can help and we know that your willingness to be an Ambassador represents your desire to assist. What a great way to help both the Council and a youth this coming year. We also will toss in one of our cool 101 Hours Day of Giving patches for all of our Ambassadors! So many wins here, it is hard to keep track!
Do we have to donate $101 to be an Ambassador?
We know that not everyone will have the ability to help our Council with a direct financial donation during our 101 Hours Day of Giving. Ambassadors provide a huge piece of the potential success for this program and there is no obligation to donate to participate as an Ambassador. If you can donate, please do. But if you cannot, please know that your helping as an Ambassador is very important to our overall success. We feel the love either way and you can play a part no matter your family's ability to donate. We are so lucky to have volunteers like you willing to assist!
So what do I do now?
For the next few weeks, we will be posting on social media about the 101 Hours Day of Giving. Share that information and help answer questions about the program. We will accept early donations, so your supporters are welcome to donate at any time. Make your list and reach out to your minimum of 10 direct contacts between now and September 2nd and then touch base again during the actual timeline for the event (Sept 2 - Sept 7th). Let us know if you have any questions. Contact Jacob at Jacob.Fontenot@Scouting.Org or Laura at Laura.Lovell@Scouting.org to answer any questions.
Will there be other information available for the Ambassadors?
Yes. We will send you a couple of graphics and a template or two for those that need help with emailing/texting your list. We also will keep you posted as we move forward with the event to let you know how things are going to add more information to your Ambassador Toolbox.
Do we have to report back on our list of contacts?
We will operate this program using the Scout's Honor system. We do not require reports or updates along the way. We trust that you will do the things you have been asked to do when you accepted the position as Ambassador.
Thank you for supporting the Calcasieu Area Council and for helping us to make our 101 Hours kick off a success. We are on the verge of many big things and are glad to have you on our team as we move forward into our next 100 years of service to our youth through our Scouting programs.
To complete your sign up, please scroll down.
If you wish to purchase 100th anniversary items, please click here for the Council Online Store. https://www.calcasieubsa.org/cacstore We have a few remaining Centennial patches, so make sure you get yours before they are all gone!