Merit Badge Saturday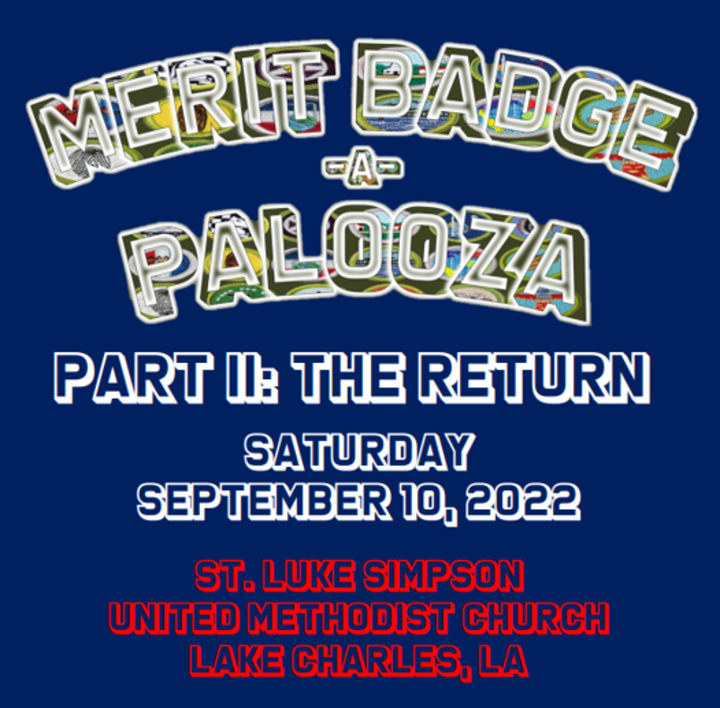 Join us for Saturday, September 10th, 2022 at St. Luke Simpson in Lake Charles!
Get Ready for "Merit Badge-A-Palooza II: The Return!"
Only $20 for the day includes up to two classes! The fee is the same if you choose to only do one half day class as if participate in two half day classes. Lunch is included in this event and all participants will receive a physical blue card.
Remember that anything worth doing is worth doing well, so please "do your best" work for these classes or you will be asked to try again. All Scouts on the call must participate in order to get credit for the work.
Not all Merit Badges will be completed and partials will be awarded. Continual work is encouraged if you are unable to complete the work during the class time. Pre-work of good quality that meets the requirements of the Merit Badge will be accepted.
Below are the classes being offered and the anticipated completion information. A few of the classes have work that will need to be completed before the class begins, so please check carefully.
For questions or concerns, please contact Laura Lovell at Laura.Lovell@Scouting.org or call/text 530-770-1152.
| | |
| --- | --- |
| Merit Badge-a-Poolaza | Saturday, September 10th |
| Full Day Classes | Work not able to be completed: |
| American Heritage | Please completed #2, 4a, 4b in advance to share. Will Complete if pre-req work done. |
| Animal Science | 4 and 6 |
| Architecture & Landscape Architecture | Will Complete both |
| Brownsea - First Year Scout skills | Will Cover Tenderfoot, Second Class and First Class rank requirements |
| Camping | 4b, 5e, 7b, 8c, 8d, 9 |
| Communication | 4 (complete interview in advance), 5, 8 |
| Emergency Preparedness | 1, 2c, 7a, 8b |
| Environmental Science | Will complete |
| Fire Safety | 6, 11 (possible field trip to cover) |
| First Aid | 5 |
| Healthcare Professionals | Pre-Req - #5, 9 |
| | |
| Half Day Classes - a.m. | Work not able to be completed: |
| Citizenship in Society | Pre Rec - #8 - Will complete if participates in class |
| Electricity | 2, 8, an 9a |
| Exploration | 5, 8 |
| Law | will complete |
| Personal Management | Pre Rec: 1 (please bring forms with scout), 6b. Will not complete 8 |
| Pulp and Paper | will complete |
| | |
| Half Day Classes - p.m. | Work not able to be completed: |
| Archaeology | Pre-req #7 |
| Citizenship in Society | Pre Rec - #8 - Will complete if participates in class |
| Family Life | Pre Rec: #2 Will not complete 3, 4, 5, 6b |
| Genealogy | Pre-req #3, will complete with time |
| Graphic Arts | Will complete |
| Music | Pre-req 3b, will complete |