2020 Interpreter Strip Day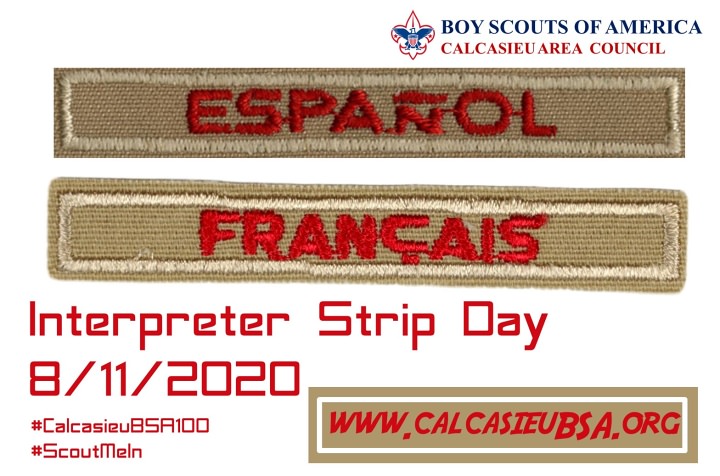 Date/Time:
Aug 11, 2020 10:00 am to 2:00 pm
Location:
Council Service Center
304 Dr. Michael Debakey Dr
Lake Charles , LA 70601
Location Phone: (337) 436-3376

Bonjour! And Bienvenidos!
The Calcasieu Area Council is planning on holding a Interpreter Strip Day at our Council Service Center on Tuesday, August 11, 2020. Scouts and Scouters will have a chance to test to qualify for the Interpreter Strip in French and Spanish.
**PLEASE SEE BELOW REQUIREMENTS! Please have a working knowledge of the language you are testing for. We will not be teaching the language, but testing to see if meet the requirements for that language.**
Scouts will be assigned an hour time frame to test for requirements. A new timeslot begins every hour on the hour. "A Scout is Courteous" so please arrive 10 minutes before your assigned time. If you have a preference for which period you would like, please let us know in the the form below. This will be done on a "First Requested, First Served" basis. If there is a need, there may be more time spots added for that day

*If you would prefer to qualify virtually on Zoom, we can try and work onto that platform for testing. If this is something you are interested in, please email jacob.fontenot@scouting.org .*
What is the Interpreter Strip?
It is a award patch that signifies that a Scout or Scout Leader speaks a foreign language (one other than English.)
Who Can Earn This Award?
Any Scout (Cub Scout, Scout BSA, Venture Scout, Sea Scout, Explorer) or Scout Leader
Interpreter Strip Requirements
Scouts and Scout Leaders may wear this strip if they show their knowledge of a foreign language or sign language by:
Carrying on a five-minute conversation in this language.
Translating a two-minute speech or address.
Writing a letter in the language (does not apply for sign language).
Translating 200 words from the written word.
As always...
"Fais de Ton Mieux" and "Estar Preparado!"