Lake Charles Historical Scout Hike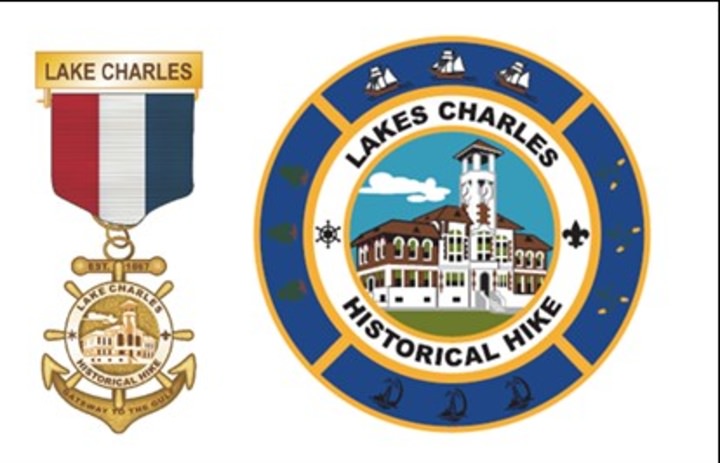 This hike was developed in 2007 as an Eagle Scout Service Project by Jonathan Vogel to fulfill one of the requirements for the rank of Eagle Scout. The organization that sponsored this project was the Southwest Louisiana Historical Association. In particular, the person who provided guidance and historical information for this hike was Mr. Robert C. Benoit. He was a longtime member and served as president of the Southwest Louisiana Historical Association. The symbols around the patch to represent the industries that were influential in the development and growth of Lake Charles and Southwest Louisiana were suggested by Mr. Benoit.
Mr. Robert Coulson Benoit, 74, died Monday, July 2, 2007. He was a lifelong resident of Lake Charles. He was a graduate of LaGrange High School and received his B.A. and M.A. degrees from McNeese Sate University. He did post graduate work at LSU, the University of Texas and Boston University. He served with the 19th Infantry Division in Korea after the Korean War.
Mr. Benoit retired from LaGrange High School in 1987 after teaching in the Calcasieu Parish school system for 30 years. He retired again in 1995 after serving as staff writer for the Lake Charles American Press for 33 years. While at the American Press, Mr. Benoit compiled and edited the "50 Years Ago" and the "In Service" columns.
Mr. Benoit edited and authored historical books on Southwest Louisiana. He was the editor of "Images of America: Imperial Calcasieu," a picture history of Allen, Beauregard, Calcasieu, Cameron, and Jeff Davis parishes published by the Southwest Louisiana Historical Association.
Mr. Robert C. Benoit was a great citizen and helped preserve the history of Lake Charles.
This hike is dedicated to Mr. Robert C. Benoit.
| File Name | Description | |
| --- | --- | --- |
| Historical Hike Printout | This packet needs to be printed out to use during the hike. | Download |