2020 Cub Haunted Campout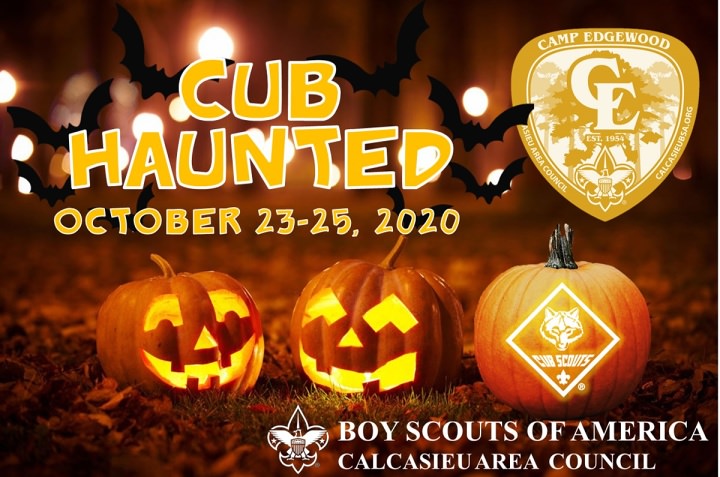 Date/Time:
Oct 23, 2020 5:00 pm to Oct 25, 2020 10:00 am
Location:
Camp Edgewood
3419 Camp Edgewood Road
DeQuincy, LA 70633
Location Phone: 8314569

**UPDATE: 10/14/2020**
It is with heavy hearts, due to both Hurricanes Laura and Delta that we have to cancel our Cub Haunted for 2020. With many of our Scouting Family still displaced and doing some cleanup at Camp Edgewood, we are unable to hold this Cub Event. In saying this, we are currently getting camp ready for Winter Camp and will be inviting Webelos out for the first time, along with our Semaphore Jamboree in December for Scouts of all ages!

Join us for a Spooky & FUN Fall themed adventure!
Check in is Friday at 6pm and Saturday morning at 7PM in the Dining Hall.
Opening Flag Ceremony is at 8:45 on Saturday and the program kicks off at 9am.
Bring breakfast & a sack lunch for Saturday or pre-order lunch tickets.
Meals provided: Dinner Saturday & Breakfast Sunday.
Concession stand and trading post will be open (cash and debit/credit cards accepted).
There will be a costume contest Saturday evening. Contest will include 3 divisions: Cub Scout, Siblings, Adult.
We will hold our Lucky 13th annual Punkin' Chunkin' Contest. The contest is a shot put style (hand toss only) event. You must provide your own small pumpkins. Contest will include 3 divisions: Cub Scout, Siblings, Adult.
Camp Edgewood is an alcohol and tobacco free camp. Parking in the parking lot only.
We look forward to seeing you soon. When packing don't forget the following: tent, sleeping bag, flashlight, fishing poles & bait, first aid kit, insect repellant, personal toiletries, lawn chairs for campsite, money for trading post & concessions, and a wagon or cart to transport your gear to assigned campsite.