2021 Cub Scout Constellation Camp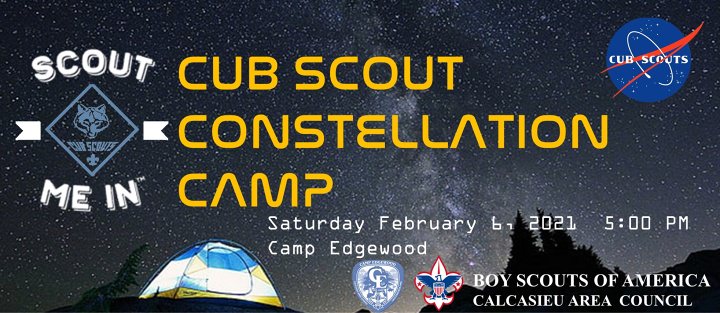 Date/Time:
Feb 6, 2021 5:00 pm to 9:00 pm
Location:
Camp Edgewood
3419 Camp Edgewood Road
DeQuincy, LA 70663

Calling all Cub Scouts who want an "Out of this World" experience! Join us on Saturday, February 6th, 2021 at Camp Edgewood for our inaugral Cub Scout Constellation Camp! There will be craft activities, Scout Science experiments, space themed snacks, learn about the planets in our solar system and star constellations, famous Astronauts with Scouting backgrounds, about life on spacecrafts and the International Space Station, the upcoming Artemis, Mars rover missions, and Orion Missions, and looking at the stars through telescopes and binoculars!

Some activities include Scouts making their own:
- Sextants and learning how to chart their lattitude!
- Star Constelation Chart!
- Constelation Flashlight Projector!
- Creating their own Nebula in a Jar!
- Designing and Building their own SLS Rocket!
- Making their own Star Constelation Luminary
-And much, much more!

#CalcasieuBSA100 #ScoutMeIn
All Cub Scouts that attend will fufill the following requirements:
- NOVA (Wolf-Webelos) "Out of this World"
*Requirement 1.C., Requirement 3., Requirement 5.
-Tiger Cubs would complete Elective Adventure "Sky is the Limit"
-Webelos will begin Requirement 3. F.